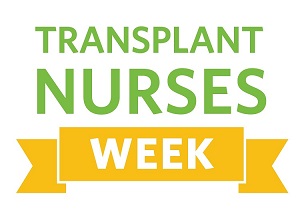 Transplant Nurses Week:

 April 24 - May 1, 2023
#transplantnursesweek
ITNS created Transplant Nurses Week (TNW) to raise awareness of the unique contributions transplant nurses make in the lives of the people with whom they work, especially their patients. 
As awareness of this important profession grows, ITNS is committed to creating more opportunities for nurses, healthcare professionals, organ donors and recipients, and their families to show their appreciation for the incredible care transplant nurses provide around the world. 
Transplant Nurses, share why you are proud to be a transplant nurse, or acknowledge one of your colleagues!
Patients and Families, share your story of an amazing transplant nurse!
---
Ways to Celebrate and Help Spread the Word! 
Use the tools below to help spread the word about Transplant Nurses Week (TNW). We've provided email copy you can modify and send to your network, a letter from the ITNS President, and social media hashtag and sticker. Also, watch for updates on activities for TNW! See the details below. 
TNW Discount for the ITNS Education Center: 
During the 2023 TNW, you can enjoy a 25% discount in the ITNS Education Center by using the Coupon Code: TNW23. The code will be active from April 24 through May 1, 2023. 
Free Session from the ITNS Annual Meeting: Carrying on When You Lose Everything You Ever Wanted - The Continued Story of a Transplant Nurse 
Speaker: Gemma Edwards, BSc, Clinical nurse specialist in mechanical circulatory support, Royal Brompton and Harefield Hospital NHS TRUST.
The session will be available to view through May 31, 2023. Please note that CNE credits are not available for this session. To access the session, visit the ITNS Education Center for brief instructions on how to access this free course. Once logged into the ITNS Education Center, you will see the above course listed in the "Latest Courses" or view the session here. 
Email Copy:
Adapt this email copy and send it to your institution and your colleagues. 
Letter from the ITNS President: 
Adapt this letter or send the pdf file inviting your local organizations or nursing boards about Transplant Nurses Week.
TNW Poster: 
Print and display the 2023 TNW poster to display on your units and in your office.
Social Media Hashtag and Sticker: 
Share far and wide the message of Transplant Nurses Week. Use the hashtag #transplantnursesweek and use this sticker to help spread the word. Save the sticker to your device, so it is available to add as a sticker in a story or photo on Instagram or Facebook. See the ITNS social media handles at the footer of this page. 
Did you buy some TNW Swag?

Don't forget to wear it and post a photo on social media with #transplantnursesweek
Refer a Member: 
ITNS members who refer a colleague to join ITNS in celebration of Transplant Nurses Week will be entered into a raffle to win an Annual Symposium registration, for either in person or virtual.* 
Not a current member? If you've never been a member of ITNS or you let your membership lapse, this is the perfect time to join or rejoin. Anyone who joins or rejoins through May 1, 2023, will automatically be entered to win a 2023 Annual Symposium registration.
* Please note that the raffle prizes include registration to the Annual Symposium ONLY, no other preconference registrations or other costs are included. In total, two Annual Symposium registrations will be raffled off, one to an ITNS member who referred new members and one to a new/rejoining ITNS member.